Professional Hatch and Port Repair Service
Atkins & Hoyle is a premier marine hatch and port manufacturer. With over 100 years of experience, we have the skills, tools and necessary expertise to bring your hatches and ports back to like-new condition. Let our experts refurbish your hatches and portlights. Original parts, skilled craftsmanship, 1 year guarantee against leaks or malfunction.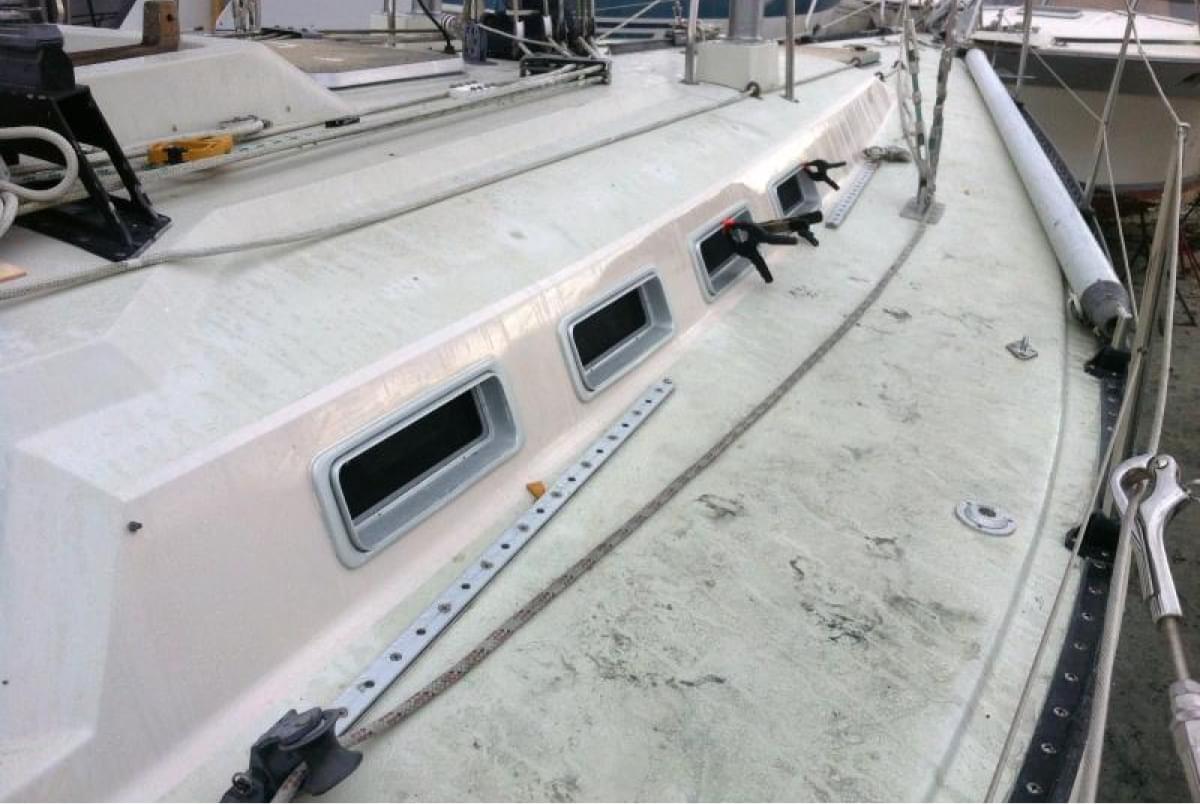 For a fraction of the cost of a new hatch or port, you will get new cast acrylic, gaskets and original standard parts. We can even repolish and anodize the frames, bringing them back to their original luster. For the best service and support, trust our expert hatch repair team with confidence.

We only use cast acrylic. It is the true test of a offshore quality hatch. Far stronger than a cheaper extruded product, it can better withstand the pressures and impacts of cruising. It is better for marine conditions because of its resistance to UV damage, preventing fogging and crazing.

Check out our Frequently Asked Questions page (Q.17) to read more about the common differences between our superior Cast Acrylic compared to the inferior extruded product used by other suppliers. We use a 2074 Grey Acrylite Cell Cast Acrylic which has the perfect tint.
We also have preferred rates through shipping companies if you would like us to organize your shipment.
Shipping Address:
Atkins & Hoyle Ltd.180 Kimmet Side Rd. RR7 Napanee, Ontario CANADA K7R 3L2
Shipping from Canada
If you are shipping from Canada, no additional information on the package is required. Simply pack up your Hatch or Ports and bring the package into either your local post office or shipping company (UPS, Purolator, FedEx, etc). If you are unsure how to wrap, contact us for suggestions or just bring the hatch or ports to the shipper who will be able to package them for you.
Shipping from USA
If you are shipping from the United States, a customs broker is required. To make this process inexpensive and easy, simply add the following information in large black writing below the address information.
When asked for the value of the contents, please indicate $100.00. This will eliminate any brokerage or duty and will ensure the quick and safe arrival of your package to our repair facility.
Our History
Arriving from England to Canada in the early 1920s, Wilfred Atkins and Joseph Hoyle established a small foundry and machine shop in Toronto in 1921. Producing bronze and aluminum castings for the general market, Atkins and Hoyle Limited was instrumental in the development of infrastructure for the growing City of Toronto. As the plant grew in reputation and size, the company acquired several commercial contracts to produce brass pumps and other fittings. This general foundry and machine shop work carried the plant through the Great Depression and World War II, employing many people at a time of job scarcity.

When the Atkins and Hoyle business was passed down to the next generation in 1967, a love of boating, and especially sailing, inspired Wilfred Atkins' son, Eric to begin the design and development of a high quality cast aluminum hatch. Unparalleled by international standards, these hatches became highly popular with North American boat builders and today can be found on many different types of boats.
To withstand the intense marine environment, new alloys were utilized and new casting techniques were acquired. Almag 35, an aluminum magnesium alloy that is lighter, stronger and more resistant to corrosion than previous aluminum alloys, was chosen for its superior qualities. However, the difficulty of casting the Almag 35 alloy meant that new foundry techniques had to be developed for this product to become a viable material for the marine industry. From the early years of casting and machining many different products for many different people, to when we began to specialize in advanced alloys for our own products, Atkins and Hoyle Ltd. has been the leader in the manufacturing of cast goods. Today, our specialization in the marine industry has created a strong reputation for the highest quality, advanced alloy production. We welcome your business and interest in our products and hope that our many years of expertise, experience and ingenuity can be employed to find the solution that you are looking for.